Investiture ceremony honors MSU's Sean Crosson as a Rudolph Hugh Endowed Chair
By Val Osowski
Listen to article
Michigan State University microbiologist Sean Crosson, a professor in the MSU Department of Microbiology and Molecular Genetics (MMG), with joint appointments in the College of Natural Science (NatSci) and the College of Veterinary Medicine (CVM), was honored as a Rudolph Hugh Endowed Chair at an investiture ceremony held March 23 at MSU's Wharton Center.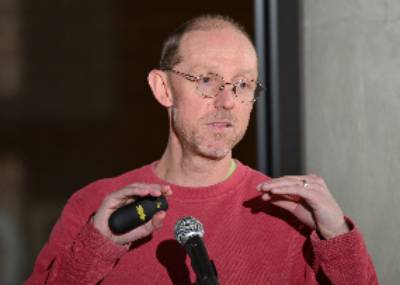 Crosson, a leading young figure in the field of infectious diseases, specializes in investigating the molecular basis of environmental adaptation in bacteria that inhabit niches ranging from freshwater to soil to the interior of mammalian cells. He received his B.A. in biology from Earlham College in Richmond, Ind., and his Ph.D. in biochemistry and molecular biophysics from the University of Chicago. Following his graduate studies, Crosson served as a National Institutes of Health (NIH) postdoctoral fellow at Stanford University School of Medicine, then joined the University of Chicago as an assistant professor in the Department of Biochemistry and Molecular Biology in 2006, where he remained until he joined MSU in 2019.
"I am delighted to be here today to recognize and congratulate Dr. Crosson on his installation as a Rudolph Hugh Endowed Chair" said Doug Gage, vice president for Research and Innovation at MSU. "Today's investiture underscores the importance of endowed funds and endowed faculty members to the university."
The endowed chair is named after Rudolph Hugh, who received his B.S. in bacteriology from Michigan State University in 1948, and his Ph.D. in bacteriology from Loyola University Chicago in 1954. Hugh worked for the precursor of the Centers for Disease Control and Prevention and did research at Iowa State University before joining George Washington University (GW) in 1954. Hugh was an expert on bacterial identification, and numerous publications, citations and awards marked his tenured career. He retired in 1989 from GW as Professor Emeritus of Microbiology. Upon his death in 2011, Hugh provided resources to establish this endowed position.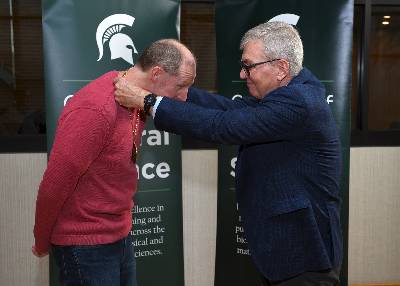 "It's a real honor to receive this endowed position and I really appreciate the recognition for the hard work that the people in my group have been doing for many years," said Crosson, who is also an MSU Global Impact Initiative hire. "MSU provides a fantastic work environment, and the Rudolph Hugh Endowed Chair gives me a chance to pursue ideas that are a little bit off the beaten path but could end up being really useful down the road. I value the flexibility to follow some of the ideas that I have and the people in my group have to go where the science leads us and not be so constrained by traditional federal funding mechanisms."
Victor DiRita, MMG department chair, said the department was ecstatic to recruit and hire Sean to this prestigious and highly regarded position.
"What attracted our interest in Sean was the powerful insights and approaches he brings to studying biology and the pathogenicity of microbes," said DiRita, who is a Rudolph Hugh Endowed Chair himself. "The combination of his innate, deep sense of curiosity and his training across the fields of microbiology, biochemistry and biophysics equipped him to address research questions from a perspective that is rare – and formidable – in our field."
Crosson's work in this cutting-edge field has already resulted in more than 100 publications to date, and he has been highly successful in generating substantial and sustained funding support for his research, currently holding several NIH awards including a prestigious MIRA Established Investigator Award.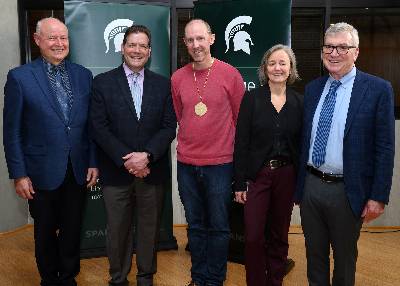 "The investiture of Dr. Crosson as a Rudolph Hugh Endowed Chair brings to our community his world leading program studying mechanisms that enable bacterial cells to adapt their physiology to changing environments," said Phil Duxbury, NatSci dean. This area is critical to understanding the effects of changing environments and stressors, such as climate change, on the evolution of ecosystems, microbiomes, and pathogens in wild and domestic hosts."
"Sean's research and scholarship exemplify the academic innovation and excellence that is a cornerstone of MSU, and his thoughtful leadership has been vital to our faculty, staff and students, as well as his colleagues in the field," added Birgit Puschner, CVM dean. "We are so proud of his accomplishments and excited to see what his future brings."
Dr. Sean Crosson investiture ceremony video
Banner image: Members of the Crosson-Fiebig lab pose for a group shot following the investiture ceremony (L to R): Thomas Kim, Samy Mechrouki, Esther Chen, Sergio Hernandez-Ortiz, Aretha Fiebig, Sean Crosson, Matt Schnizlein, Hunter North, Melene Alakavuklar, Emily Perez, Maeve McLaughlin. Credit: Harley J. Seeley