MSU Ph.D. student receives fellowship to support biodiversity research in Central Africa
Release Date: Sep 21, 2021
The Albertine Rift is among the top five important ecoregions for biodiversity conservation on the African continent. The rift stretches across six countries from the northern end of Lake Albert in Uganda to the southern end of Lake Tanganyika in Zambia.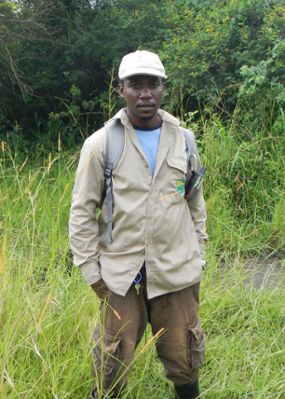 However, agriculture expansion, livestock production, invasive species and development projects are immediate threats to the area's ecosystem. Sam Ayebare, an MSU graduate student from Uganda, is dedicated to finding ways to mitigate the effects of habitat loss, industrial activities, and climate change in this important ecoregion.
For his efforts, Ayebare has received a Russell E. Train Fellowship for Aspiring University Faculty for Conservation from the World Wildlife Fund (WWF), which will support his current research on mammals and birds in the Albertine Rift.
"I am deeply pleased and honored to receive this fellowship," said Ayebare, a Ph.D. student in the Department of Integrative Biology (IBIO) in the College of Natural Science and the Ecology, Evolution, and Behavior (EEB) program. "The funding will support my ongoing Ph.D. program and enable me to contribute to conservation efforts in the Albertine Rift."
The monetary award will help him complete the work he has begun in his first two years at MSU. The fellowship, open to candidates from WWF priority regions in select countries in Africa, Asia, and Latin America, is awarded to students who will return to their home country to work in conservation after completing their degree.
"We are fortunate and very pleased that Sam chose to join the MSU IBIO/EEB communities to advance his professional development," said Tom Getty, IBIO chair. "We will benefit from his contributions for several years. Africa and the world will benefit from his efforts for the rest of what we are confident will be a long productive professional career in conservation biology."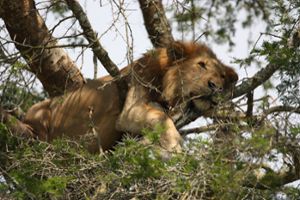 Before coming to the United States, Ayebare spent almost ten years in the field as a conservation researcher in Uganda working to sustain biodiversity within the Albertine Rift. Focused on minimizing the effects of industrial development and climate change, he helped influence wide-ranging management plans and policy. Ayebare realized the need for better ways to analyze the data he and his colleagues were collecting. He joined MSU's integrative biologist Elise Zipkin's Quantitative Ecology Lab in 2019 to increase his statistical toolbox and learn advanced approaches to data analysis.
"My main objectives at MSU are to improve my quantitative skill set, develop models that can be used for monitoring wildlife populations, and use the results for conservation planning," Ayebare said. "Long-term, I hope to share this knowledge with the next generation of scientists and improve develop approaches to enhance conservation efforts in the Albertine Rift and throughout Uganda."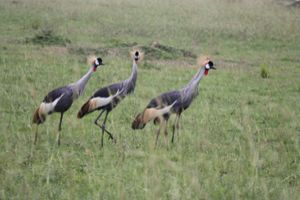 Using data collected by the Wildlife Conservation Society since the 1990s, Ayebare's main goals for his dissertation are to integrate multiple sources of existing monitoring data, identify the factors causing current biodiversity trends, and determine the effectiveness of current mitigation efforts. By understanding more specifically what is impacting species, Ayebare can guide conservation and wildlife managers and inform policymakers.
"Sam's work in developing approaches to aggregate and analyze existing data will lead to a huge leap in knowledge on the status of biodiversity in the Albertine Rift" said Elise Zipkin, Sam's Ph.D. advisor. "Furthermore, his work will provide the foundation for understanding if and how monitoring can be improved and what other pieces of information might be useful to assess and reverse species' declines."
Ayebare is eager to bring his quantitative expertise back to his home country. As soon as he finishes his Ph.D., he plans to teach others in Uganda about modern statistical methods in ecology and hopes to start an academic program at the Makerere University in Kampala, Uganda.
Banner image: Elephants (Loxodonta africana) in Queen Elizabeth National Park. Credit: Mustafa Nsubuga