Amplify STEM Past Events
Amplify STEM honors and recognizes different voices from our community. These programs align with identity awareness months throughout the year. Amplify STEM is sponsored by the College of Agriculture and Natural Resources, Lyman Briggs College, College of Natural Science, and College of Veterinary Medicine
---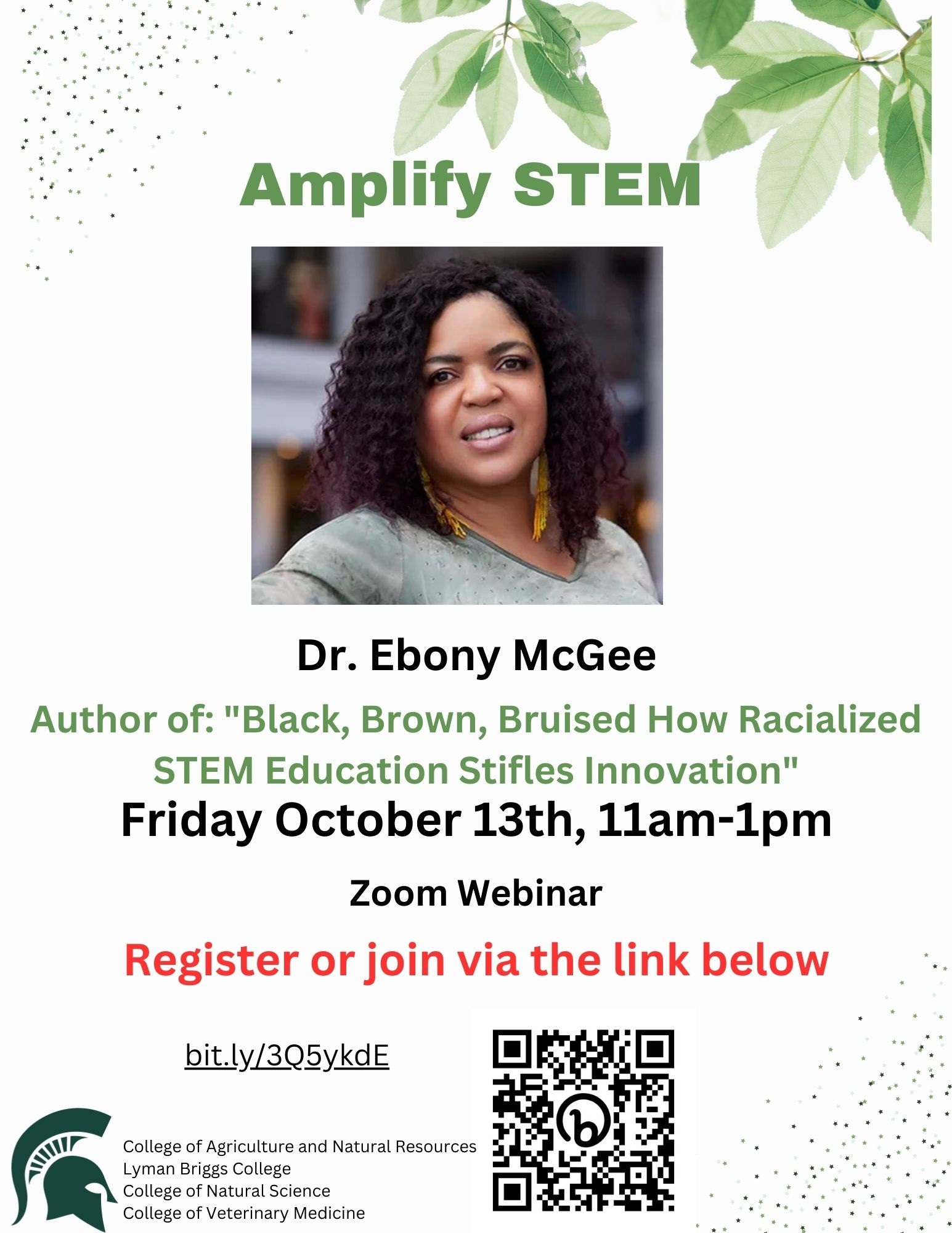 Zoom webinar
Date: October 13th
Time: 11am-1pm ET
Presenter:
Dr. Ebony McGee
Title: "Black, Brown, Bruised How Racialized STEM Education Stifles Innovation"
Dr. Ebony McGee of Johns Hopkins University is a Professor in the School of Education. Dr. McGee is an electrical engineer by training and an 11-time NSF investigator awardee. She is the leading expert on the experiences and mental health consequences of seeking STEM training and occupations for Black students. She also investigates student resiliency, wellness, mental health, and identity development in this context. She founded Racial Revolutionary and Inclusive Guidance for Health Throughout STEM (R-RIGHTS) and co- founded the Explorations in Diversifying Engineering Faculty Initiative (EDEFI), as well as the Institute in Critical Quantitative and Mixed Methodologies Training for Underrepresented Scholars (ICQCM), with support from the National Science Foundation, the Spencer Foundation, and the WT Grant Foundation.
APIDA Heritage Month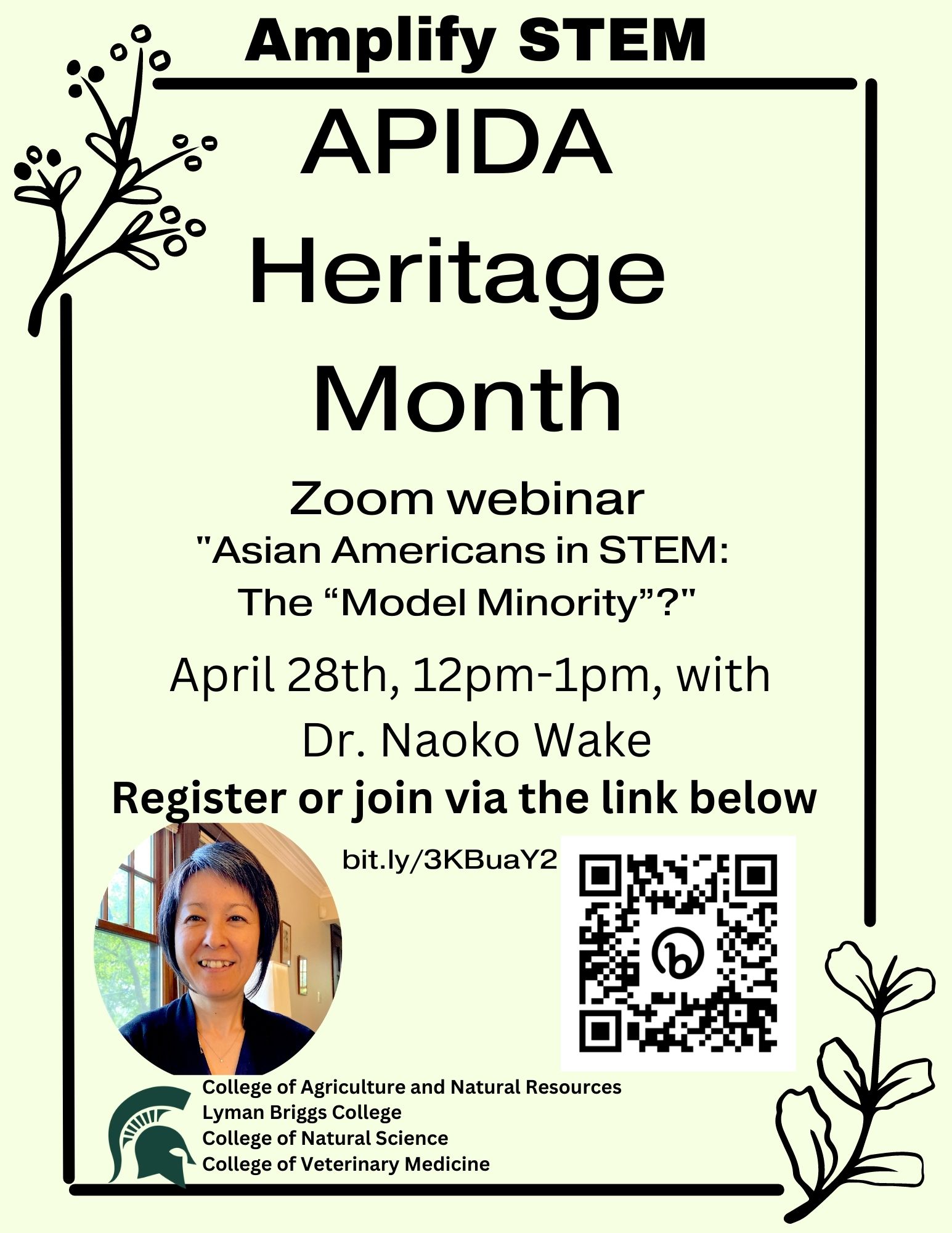 Zoom webinar
Date: April 28th
Time: 12-1pm ET
Access the event recording here.
Presenter:
Dr. Naoko Wake
Title: Asian Americans in STEM: The "Model Minority"?
Description: Since immigration reform in 1965, the number of Asian Americans in the United States has steadily increased. This rise in number is particularly salient in Science, Technology, Engineering, Math, and Medicine, because immigrants trained in these fields are given preference over others by the immigration laws. This presentation explores the "model minority" image that this demographic change has helped generate and its highly problematic consequences. While Asian American scientists have been held up as among the most productive citizens of the United States, they have been subjected to the suspicion that they are perpetually foreign. This "model minority" image has also made other groups of Asian Americans seem not only foreign but also invisible, most notably those who suffer illnesses that do not fit the image of overachieving Asians—HIV/AIDS and the coronavirus.
Biography: Naoko Wake (she/her) is Professor of History and the Director of the Asian Pacific American Studies Program at Michigan State University. A historian of gender, sexuality, illness, disability, and memory in the Pacific world, she has authored Private Practices: Harry Stack Sullivan, the Science of Homosexuality, and American Liberalism (Rutgers, 2011) and American Survivors: Trans-Pacific Memories of Hiroshima and Nagasaki (Cambridge, 2021). She has created the largest oral history collection of Asian American survivors of the 1945 atomic bombings in the world, housed in MSU's Robert G. Vincent Voice Library and in the Densho Digital Repository. Her current project concerns the histories of disability, archives, and literature in Asian America. Her work has been supported by the National Science Foundation, Association for Asian Studies, Oral History Association, Huntington Library, Center for the United States and the Cold War at New York University, and Nagasaki National Peace Memorial Hall for the Atomic Bomb Victims.
Women's History Month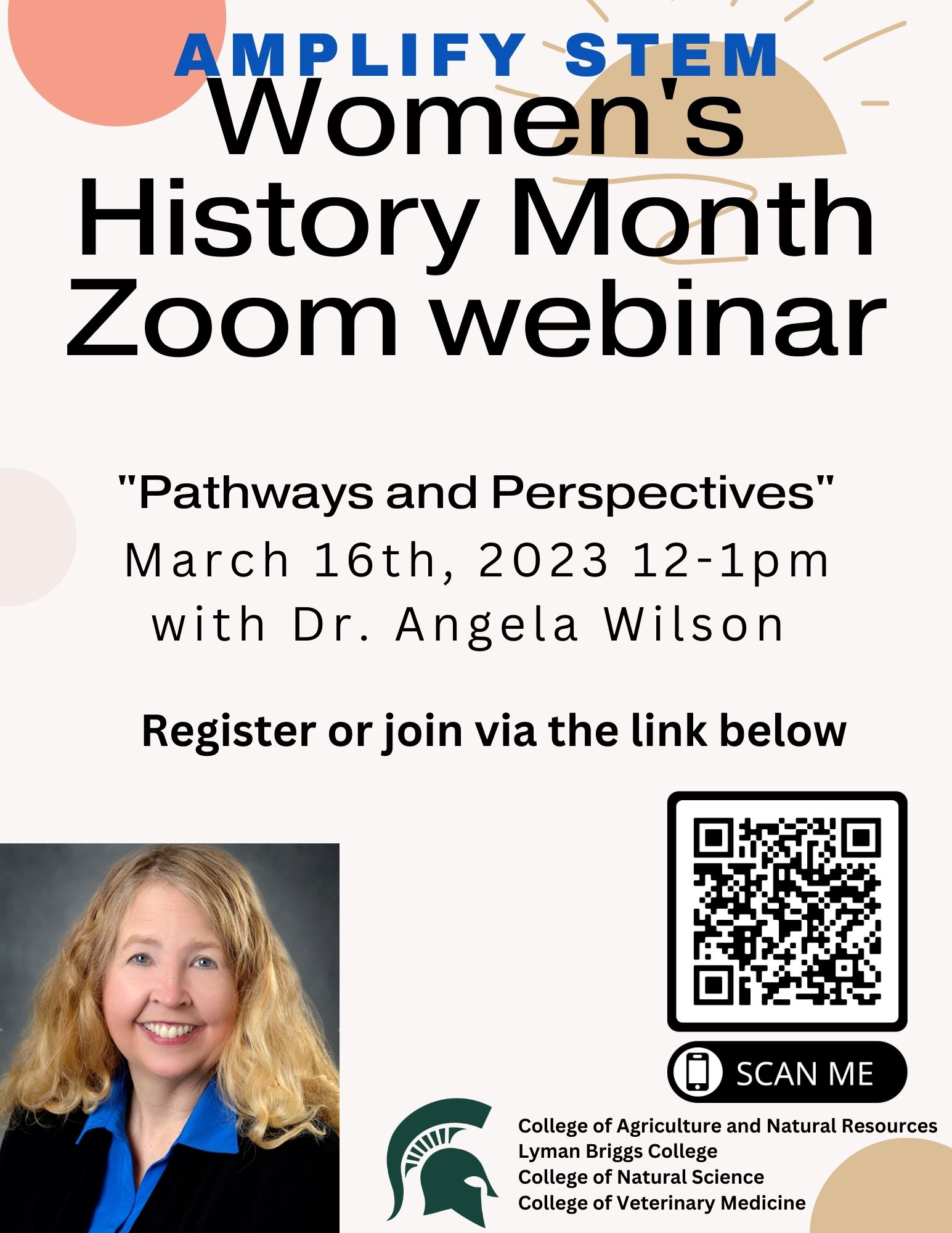 Zoom webinar
Date: March 16th
Time: 12pm-1pm ET
Access the event recording here.
Presenter:
Angela K. Wilson joined MSU in 2016 as a John A. Hannah Distinguished Professor in the Department of Chemistry. She also is Associate Dean for Strategic Initiatives in NatSci and is the Director of the MSU Center for Quantum Computing, Science, and Engineering (MSU-Q). In 2022, she was President of the American Chemical Society, the world's largest scientific society, with over 170,000 members. From 2016-2018, she served as the head of the Division of Chemistry at the U.S. National Science Foundation. Among her various recognitions, she was named one of the top 5 most influential women chemists and top 40 most influential women in STEM in the world during 2010-2020.
Native American/Indigenous Heritage Month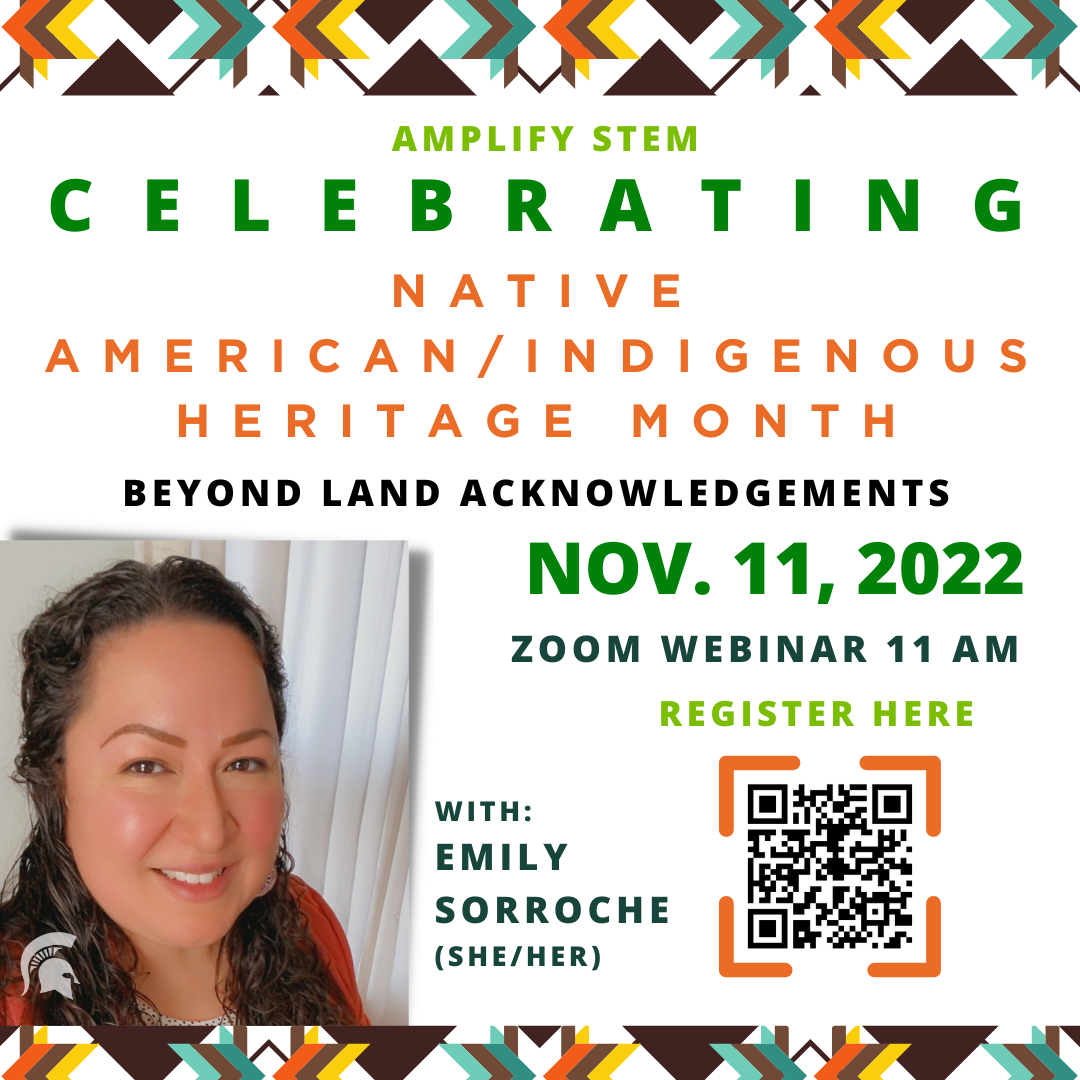 Beyond Land Acknowledgements
Zoom Webinar
Date: Fri, Nov. 11th
Time: 11-12pm ET
Presenter:
Emily Sorroche (she/her): Associate Director, College of Agriculture and Natural Resources, Office of Diversity, Equity and Inclusion
Emily Sorroche is a Tribal member of the Cayuga Nation with the Haudenosaunee (Iroquois) Confederacy. She is associate director in the College of Agriculture and Natural Resources Office of Diversity Equity and Inclusion. In this role, Sorroche works to create and promote professional development programs that emphasize diversity, equity and inclusion, as well as develops training tools to empower supervisors and administrators to evaluate and reward diversity and inclusion capacity.
She also provides regular educational and networking opportunities for graduate students, faculty and staff to connect with affinity groups around equity and inclusion issues and maintains relationships with relevant university and CANR offices and partners. Emily is also an adjunct professor with the Saginaw Chippewa Tribal College teaching first year development.
Previously, Sorroche previously worked in the Office of Cultural and Academic Transitions at MSU.
Download Celebrating Native American/Indigenous Heritage Month Zoom background
LGBT History Month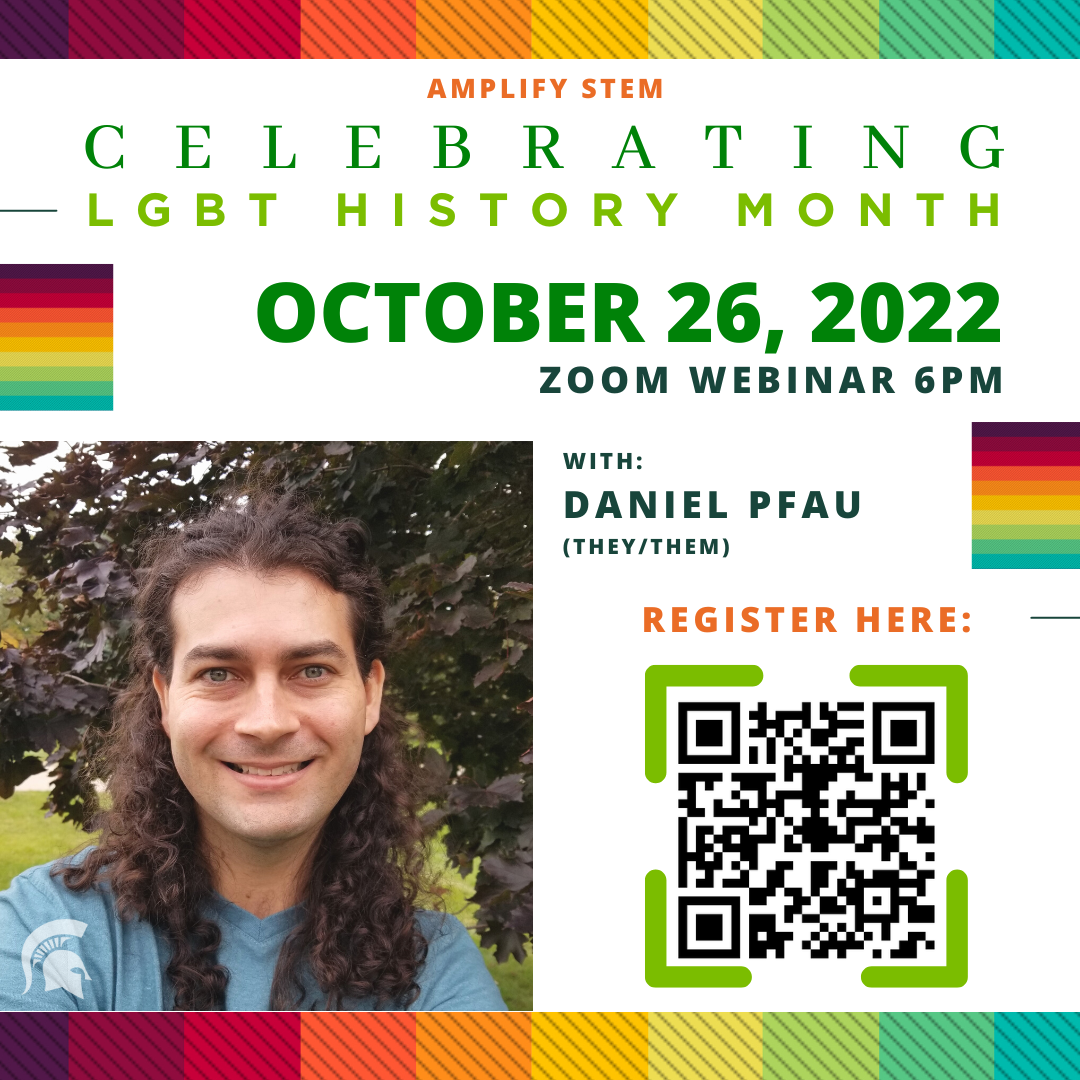 Moving Beyond the Biomedical Binary; Mouse Models of Gender-Affirming Hormone Therapies
Zoom Webinar
Date: October 26, 2022
Time: 6 pm
Access the event recording here.
Presenter:
Hispanic Heritage Month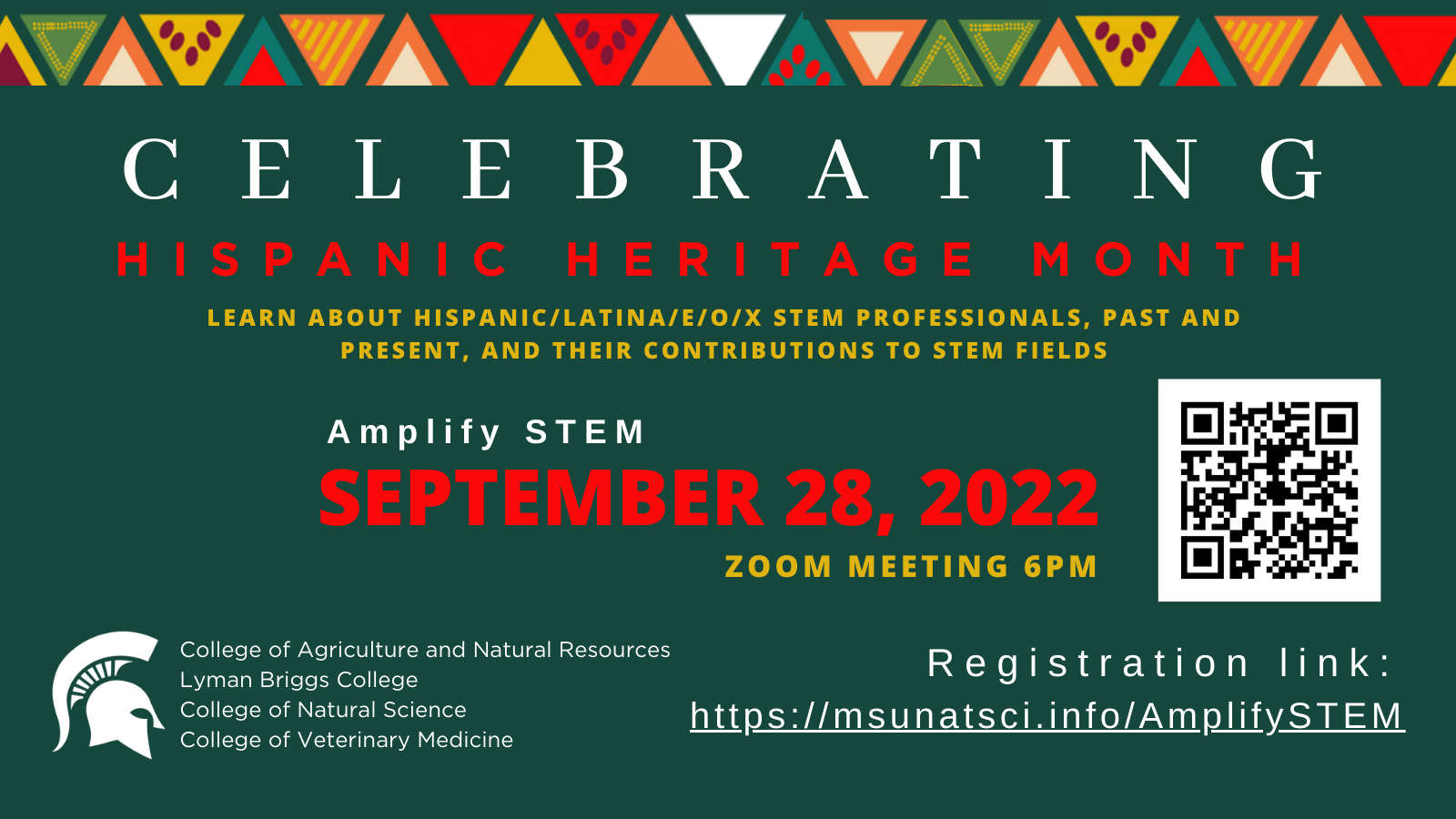 Learn about Hispanic/Latina/e/o/x STEM professionals, past and present, and their contributions to STEM fields.
Zoom Webinar
Date: September 28, 2022
Time: 6 pm
Presenters:
Carmen-Maria Garcia
Carlos Lauchu
Dionardo Pizan᷈a
Kelsey Robinson
Dolores Perales